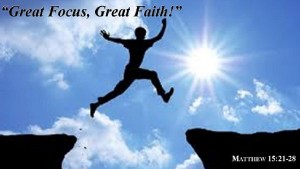 Through The Word Monday Meditation:  
     "Great Focus, Great Faith!"
Scripture Focus: Mark 5:21-28
Sometimes we must approach God about relief from someone else's circumstance.
We can cross the lines of tradition as we ask for God's mercy.
We will press beyond boundaries when we know God can change our dilemma.
When we recognize Who God is, we will go to foreign places to get to Him.
What is your response when God is not responding to you?
Our pursuit of God may be misinterpreted by others.
Worship will give you access to what you don't have the authority to approach.
Don't allow God's silence to discourage your pursuit.
When we are persistent in our pursuit of God, we put ourselves on His agenda.
God's silence doesn't mean He's not listening to us.
God's negative response to us should never cancel our posture of submission to Him.
Persistently pursuing God in worship multiplies the result of His delayed response.
PRAYER:
Dear Lord, we thank You for being the ever-present God, Who is positioned to hear our every cry.  We thank You, Lord, for choosing to hear us even when You chose not to immediately respond.  We bless You, Lord, for giving us the opportunity to increase our faith and to intensity our pursuit of You.  Bless You, Lord for giving us the strength we need to dismiss those who try to dismiss our pursuit of You.  We thank You, Lord, for having mercy on us when we are so undeserving of You.  We celebrate Your Grace as You give us Your attention and allow Your power to be manifested in our lives.  Thank You, Lord for acknowledging and rewarding our faith walk.  In Jesus' Name, we bless You as we pray, Amen.