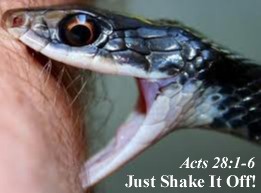 Through The Word Monday Meditation:
     "Just Shake It Off!"
Scripture Focus:  Acts 28:1-6
1.   Cancel fear by standing on what God said.
2.   Sometimes God will guarantee us safe passage without giving us all of the details of the journey.
3.   Purpose is our passport out of trouble.
4.   God assigns unusual kindness to greet us on the other side of trouble.
5.   Embrace all God-assigned blessing bearers.
6.   Surviving one challenge doesn't exempt us from facing new challenges.
7.   What provides comfort also has the potential to provoke confrontation.
8.   Don't allow the opinions of others to shape your assessment of an attack.
9.   Remember God's Word and act accordingly.
10. Do not focus on the facts of an attack or the strength of the attacker.
11. Recognize an attack as a distraction to assignment –and then Just Shake It Off!
PRAYER:
"Dear Lord, we thank You, as we celebrate Your will and Your way.   Thank You, Lord for all of the places of refuge that you've assigned along our path towards destiny to offer us care and comfort as we recover from our storms. Thank You, God for giving us a spirit to receive from everyone that you have ordained to be a blessing to us regardless of our similarities and our differences.  Thank You, Lord for empowering us to operate in Your authority and shake off everything that would stand between us and Your will for our lives. We thank You for Your loving kindness towards us, and give You praise as we bless Your Name.  In Jesus' Name, Amen."