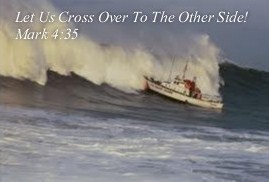 Through The Word Monday Meditation:
       "Let Us Cross Over To The Other Side!"
Focus Scripture:  Mark 4:35-40
A new assignment was given after having just finished a very tiring assignment!
Jesus guaranteed corporate success when He gave the command!
Take Jesus with you on your next assignment!
Immediate Obedience does not hesitate!
JESUS WAS Their Confidence!
Jesus' silence doesn't mean He's left us or that He doesn't care for us.
Jesus knows, loves and cares for us!
REBUKE the source of the opposition; SPEAK to the displaced elements of the environment.
Know that Fear indicates a lack of Faith.
GOD has empowered us TO SUCCEED!
PRAYER:
God, we thank You for ordering our steps before the very foundation of the world was framed.  Thank You for speaking Your word, giving us direction and being with us along the way.  Thank You for Your guarantee of safe passage.  Lord we ask now, in Jesus' Name, that You encourage our hearts and strengthen our hands until opposition in obedience becomes a confirmation of faith instead of a catalyst for fear.  Lord, help us to remember what You've spoken to us and empower us to walk out Your word in confidence.  Thank You, Lord for Your Presence; Thank You, Lord for Your Peace and thank You for Your Grace.  In Jesus' Name, we bless You as we pray, Amen.