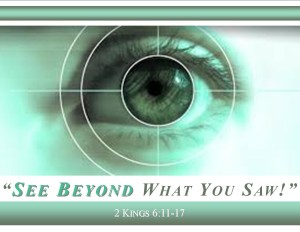 Through The Word Monday Meditation:  
     "See Beyond What You Saw!"
Scripture Focus: 2 Kings 6:11-17
1. Our gifts will give us access to places that others think we are restricted from.
2. When we're on assignment for God, He will give us inside information.
3. Someone in the enemy's camp knows about our gift, knows about our assignment, and knows where we are.
4. We are so powerful and detrimental to the enemy that he will send an entire army during the night to capture us.
5. Doing 'a right thing' may sometimes get us 'a wrong response'.
6. There is always someone with us who is assigned to tell us that the enemy has us surrounded.
7. Maintaining our relationship with God is vital key to dispelling fear.
8. A powerful enemy may enter our camp, but he has no ruling authority over the God we serve.
9. We are empowered to dismiss fear that arises in those who are with us.
10. To address the fear in others, we must first conquer fear in ourselves.
11. Our prayer has the power to cause someone else to see beyond what they saw.
12. God's protection may not be visible to the enemy, but it empowers us to safely and skillfully escape our enemies.
PRAYER: Dear Lord, thank You for gifting each and every one of us and allowing us to submit our gifts unto You. Thank You, Lord, for the power of Your gifts in us when we use them for Your Kingdom assignments. Bless You, God for reminding us that although the enemy may know about our gifts, our assignments, and even our location, that You continue to be our protection as we obediently submit ourselves unto You. Thank You, God for strengthening us to continue in faith when we get wrong responses to our right acts. Help us, Lord, to maintain our relationship with You. Thank You for dispelling fear in us, Lord, and empowering us to rebuke the fear in those who are around us. Remind us, Lord, that powerful enemies may enter our camp, but they have no power over You, Sovereign God. Thank You for keeping our eyes open, God, so we are always aware of Your Protecting Presence. Empower us, Lord to pray for the enlightenment of those around us so they too can see that in You, there is no need for fear. In Jesus' Name, we bless You as we pray, Amen.