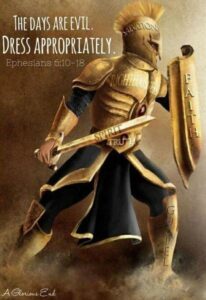 2 Chronicles 20:17
"Ye shall not need to fight in this battle:  set yourselves, stand ye still, and see the salvation of the LORD with you, O Judah and Jerusalem: fear not, nor be dismayed; to morrow go out against them: for the LORD will be with you."
STAND UP… Position: Set Yourself
Any time the earth shifts under our feet, whether literally or metaphorically, we must 'Set Ourselves' in order to maintain our balance. Our Position will always determine our perspective, so it is important to stabilize our footing and Stand UP.  When we affirm our position through God's word, we agree with God's guarantee concerning His promises to us and position ourselves to experience His victory. Whether there is something to physically stand on or not is irrelevant – God's promise is our foundation!
STAND OUT… Project: Stand Still
There is only one right way to Stand OUT against the enemy and that is wearing the whole armor of God.  When we are covered with Truth (Belt), Righteousness (Breastplate), Gospel of Peace (Shoes), Faith (Shield), Salvation (Helmet) and Word (Sword), we don't project ourselves; we reflect the God we serve. Our responses now and not driven by the flesh, but are led by the Spirit of God. We don't even look the same! When we are covered in His armor, we project His character. We must choose to Stand Still in Him daily.
STAND THROUGH… Persevere: Stay The Course
When confrontation is obvious, we typically prepare ourselves TO battle; however, God has commanded us to position ourselves FOR battle. Trusting God enough to Stand THROUGH is what empowers us to Stay The Course when doing so makes no sense at all! Showing up to a fight and choosing not to fight is a big deal only when we don't recognize that God ordained for us to be present and accounted for at His victory. The only detail about the battle that He shares is that we won't have to fight.
The LORD has promised to be with us on every battlefield when we submit to His battle plan. The victory is His and has been guaranteed… so Stand UP; Stand OUT; Stand THROUGH!!!