Monday, June 24th at 7:30pm EST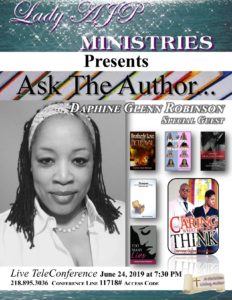 #JoinTheConversation as Ask The Author Live TeleConference hosts Christian Living Author Daphine Robinson! We'll be discussing her book "Caring What People Think!" This 30-minute call will enlighten, encourage and empower you through the story of  'Russell Brown' the most eligible bachelor at Outreach Fellowship Church who is tired of dating and committed to finding Mrs. Brown and 'Dannica Rawlins' who is battling depression when she meets 'Russell'.  This story addresses finding love while struggling with mental illness, embracing hope and offering forgiveness. One autographed copy of this featured work will be given away during the call.
Saturday, June 29th at 10:00am EST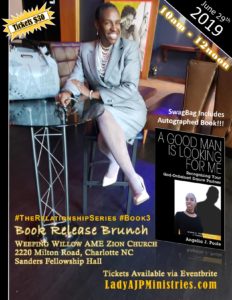 Book #3, 'Relating With Your Partner', in 'The Relationship Series' has been released and we are celebrating "A Good Man Is Looking For Me: Recognizing Your God-Ordained Dance Partner!" This mid-morning brunch comes with a swag bag that includes an autographed copy of this work and several other special gifts specifically designed for Celebration Attendees.  Come ready to enjoy great cuisine, experience great writing and indulge in great company!  Book #1, "JobTitle Worshiper" and Book #2, "Operating In The Light" will also be available for sale along with other promotional items.  The Brunch Is On and Lady Angelia cordially invites you to #JoinTheCelebration!!!  Click Here To Purchase Your Ticket!!!