The Lady AJP Ministries MarketPlace includes books and other items that help to proclaim the greatness of God while promoting the edification of His people… So scroll through the virtual bookstore and select items for yourself or as gifts for someone else.  Happy Shopping!!!
JobTitle Worshiper is an elementary work that focuses on establishing and maintaining a personal relationship with God.  By answering the journalistic questions, we take an in-depth look at the components of worship and the weaponry of the worshiper.  God created every one of us to worship Him!
Paperback Book Available For Purchase!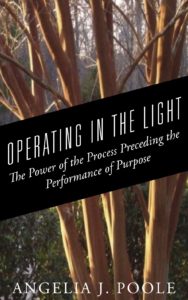 Operating In The Light is an in-depth look at several of the processes that we must go through in order to walk in what God has called us to.  By observing the processes of various men and women of the Bible from seasonal perspectives, we gain great insights on how to progress towards purpose.
Paperback Book Available For Purchase!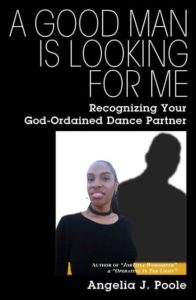 A Good Man Is Looking For Me is a scriptural detailing of the blessings of Covenant Relationship when God does the uniting and the struggles we encounter when we usurp His place of Divine Orchestration.  Six couples walk us through the Blessings of when God does the orchestrating and the burdens of when He doesn't.
Paperback Book Now Available For Purchase!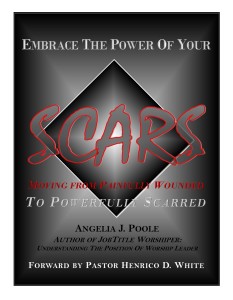 Embrace The Power Of Your Scars is an encouraging work that explains the importance of the healing process being completed and the benefits of understanding the purpose of our wounds so we can effectively embrace the power of our scars. This work detains how we can move from painfully wounded to powerfully scarred, and position ourselves to encourage and empower someone else towards healing.
Paperback Book Available For Pre-Order Summer 2021
Lady Angelia Writes Facemasks
Being safe is also being stylish when you sport the 'Lady Angelia Writes' facemask! Available in Black with White lettering or White with Black lettering, you have your choice of looks in this washable personal protective equipment. This cute and comfortable covering gracefully supports your need to be careful.
Facemasks Now Available For Purchase!
Lady AJP Quotes 2021 High Gloss Inspirational Calendar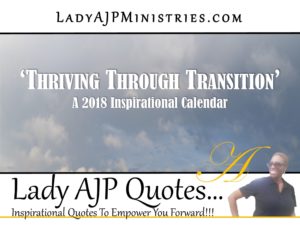 Transition was intended by God to transport us from where we are to where He wants us to be.  Often that process is uncomfortable and challenging and many levels; however, God has empowered us to thrive as we endure this process of becoming.  This inspirational calendar will refine your perspective of going through and position you to 'Thrive Through Transition'!!!
Lady AJP Quotes 4×4 Coasters and 6×6 Ceramic Tiles with Easel