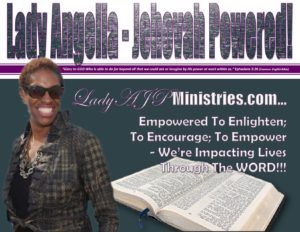 THE GENERAL BLOG:  Writing is my primary passion and this blog is dedicated to general thoughts about revelations and insights that God has shared with me.  The posts contained in this listing will enlighten, encourage and empower each reader.  Feel free to comment and share as you are led.  #LadyAngelia #GenerallySpeaking…
THE FOCUSED PRAYER BLOG:  Prayer is our conversation with God that prepares our hearts to embrace His will.  In Focused, we speak directly with God about His will regarding those things that concern us.  Utilizing scripture as the basis of our prayer, we petition God for His will to be fully manifested.  We invite you to join us in prayer as we pray: Apostolic Gifts, Divine Strategies, Fortified Focus, Godly Marriages, God's Favor, God's Power, Governing Authorities, Greater Discernment, Intimacy with God, Purpose Revealed, Shepherding Pastors, Teachable Spirit and Unification of The Body of Christ.

THE MARRIAGE PRAYER BLOG:  There is nothing more powerful than Covenant relationship coupled with prayer – there is absolutely nothing that compares.  Interceding for your life partner is one of the best investments you could ever make.  This blog is dedicated to wives and wives-to-be who know the power and importance of interceding for the men who lead them.
THE MOVIE MOMENTS BLOG:  Some of the best revelation I've received happened while I was engrossed in a movie! Watching life unfold on the screen positioned me to see a corelating spiritual truth that I hadn't seen before.  This blog shares those insights in hopes that you will be blessed as well.

THE 'ANTIDOTE' BLOG:  Sometimes, when the enemy is on the attack and we forget what God has spoken to us, we just need a quick word to get us back on track with what God said.  Visit this blog for 'The Antidote' and counteract the wrong words that the enemy has spoken with the right words that God spoken.

DISTINCTIVE PRINT BLOG: Lady Angelia Writes Distinctive Print by Lady AJP and this blog is dedicated to discussing current publications as well as upcoming releases and current works.  Visit for previews of work by Lady Angelia Writes and to leave your comments.  Content sharing across your social media sites is welcomed and encouraged!

THE 'AMOUR-ALL' BLOG:  Ephesians 6:10-20 details the Armor of God giving us the specifics for the most important outfit we can ever wear.  This blog is a discussion board that covers the different parts of God's armor and the context for which it is worn. Understanding the purpose of each piece of armor better positions us to wear it properly and effectively.